If you're a language learner, you'll probably already be familiar with Duolingo, a popular language learning app that offers a huge variety of different language courses. Duolingo's fun challenges and interactive lessons have helped thousands of people around the world to become proficient in a new language. However, did you know that aside from the app itself, users looking to learn English can also take the Duolingo English test?
So, what exactly does this test include – and how do you pass it? Read on for our top tips on how to pass the Duolingo test here.
What is the Duolingo English Test?
The Duolingo English Test is a special language proficiency exam designed for international students and is required by many US and Canadian universities for entrance admissions. The test costs $49 and measures candidates' English language skills, including reading, writing, listening, and speaking.
Unlike exams such as IETS and TEOFL, which are based on specific techniques, the Duolingo exam has been designed to test for a general level of English. As well as completing various tasks designed to showcase their English language ability, applicants will also have a video interview and provide a writing sample to give interviewers an idea of their personality and interests. At the end of the test, candidates will receive an overall score of a maximum of 160 points, as well as subscores for Literacy, Conversation, Comprehension, and Production.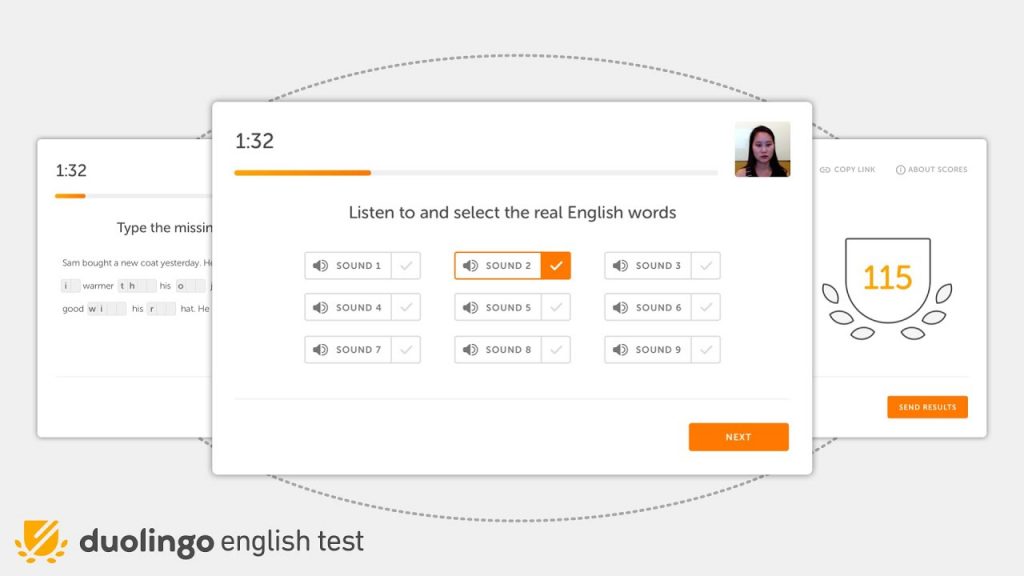 How do I pass the Duolingo English test?
To pass the Duolingo English test, there are several things you'll need to practice, which are outlined below:
Reading and writing skills
The Duolingo English test will include tasks such as choosing real English words from a written or audio list and describing images using descriptive language, so a varied vocabulary is key. Revising English grammar and sentence structure will also come in handy, as you will need to use linking words, imaginative language, and complex grammar structures to score highly.
Listening skills
During the exam, you'll have to type out audio statements – so familiarise yourself with spoken English by watching films or TV shows, or listening to the radio. Practice transcribing what you hear so your ear adjusts to the vocabulary.
Speaking skills
You'll also have to record yourself speaking, as well as take a video interview, so it's important to practice saying sentences out loud to improve your accent. If you struggle with pronunciation, you can find pronunciations for specific words online.
Other top tips
As well as making sure you have good all-round English skills, you can further improve your chances of passing the test by doing lots of revision. Taking practice exams is a great way to test your skills and learn what you need to improve. The sample test is free and you can take it as many times as you like – you'll be given an estimated score to guide you.
Next, to really boost your skills, consider booking some English classes with a qualified tutor – they will be able to give you constructive feedback and help you improve on weaker areas. You can also test your knowledge by practicing with fellow students.
Conclusion
Finally, prepare everything you'll need for the test in advance. Applicants must have a form of ID such as a passport or driver's license, a computer or laptop with a camera, microphone and speakers, and a reliable internet connection. The exam takes around an hour, so find a quiet room with plenty of light and no distractions. Good luck!